5th April, 2021
It is with deepest sadness that I have to tell you that our Ray, friend to all, had a heart attack at 5am and has died. Rest In Peace Ray 11 November 1935 - 5 April 2021.
Ray devoted his life to Our Lady and to our Society where he has been Office Manager since November 1989.
I spoke to him yesterday at some length – he was cheerful and positive, looking forward to being discharged in a few days. He commented that "it is like living in a luxury hotel, I have never eaten so well there's too much!"
He was so touched by all your messages and prayers on facebook and other media. Also that Masses were being said and five candles lit for him at the Grotto on Easter day.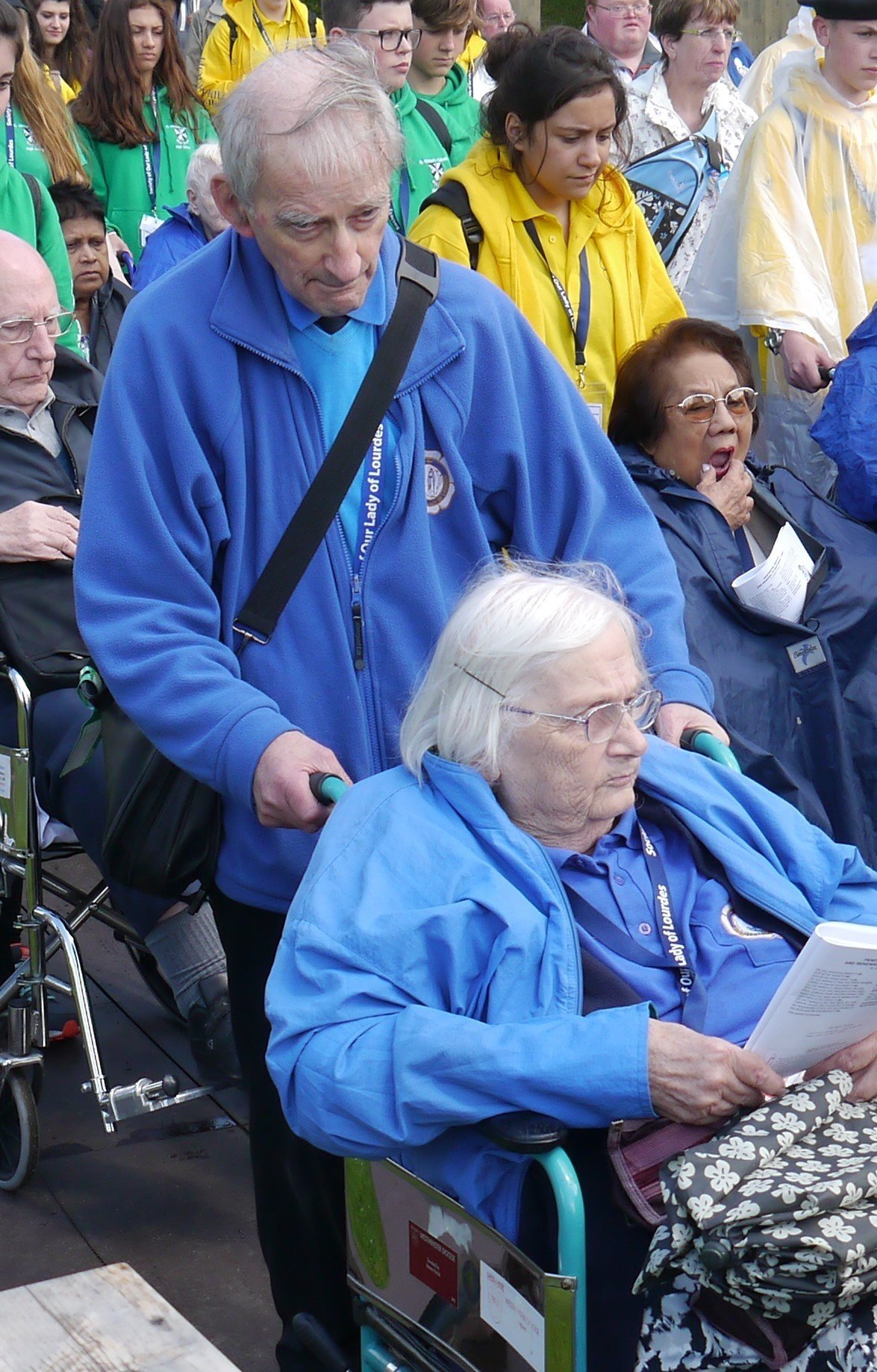 Our Lady of Lourdes Pray for Him.

St Bernadette Pray for Him.

Dave Farrow
Chair SOLL
IMPORTANT UPDATE
Following consultation with friends and members of the Society, a majority of you have indicated they would be interested in an hotel-based pilgrimage, unassisted, to Lourdes in October this year.
FURTHER UPDATE
Following a meeting of SOLL Council 27/3/21 it has been agreed that we will proceed to plan and prepare a programme of events for an hotel-based pilgrimage, unassisted, to Lourdes by air at the end of October this year. All arrangements will be strictly subject to the prevailing situation with the pandemic in the Autumn. Further details will be advised as they become available.
There was also support for regional, one-day, gatherings over the summer, in Hayes, Devon and Osmotherley, North Yorkshire and Council are looking to make arrangements for these accordingly.
Further details will be published on both the website and Facebook page as soon as they become available.
Bishop Nicholas Hudson shares a reflection on how the Teams of Our Lady have influenced his own life and gave his parents the building blocks for their marriage
Important News - Lourdes Pilgrimage 2021
SOLL had deferred making a decision for our annual pilgrimage in the hope that the current Covid19 situation would have improved and we could plan with greater confidence.
Around the country other groups have had to make similar hard choices. We have been in touch with Lourdes, taken advice from the Lourdes Medical Director and studied the guidance available that explains how they are dealing with potential pilgrimages.
SOLL has a duty of care for all pilgrims and helpers and especially those we support and care for in the Accueil. The view therefore was taken by the SOLL Council to cancel the pilgrimage 2021 in its current form for the following reasons.
prevailing travel situation
lack of available medical support
complexity of safeguarding people in Lourdes
French Covid19 restrictions
We fully understand and appreciate how upsetting this decision is especially after last years cancellation.
It is easy to just 'stop', but by doing so it makes it harder to start again: should 2022 prove to be 'normal', three years will have elapsed since our last pilgrimage. Although we may not be travelling far in 2021 it is important to keep the engine running.
We will again create a Virtual Pilgrimage for the week we would have been away. Friday 28th May, 2021 to Friday 4th June, 2021. Please keep these dates in your diary
Additionally, if there is sufficient support from pilgrims, we would propose the following;
It is possible we might create a "parish type" mini pilgrimage to Lourdes in May 2021 that would be for a shorter duration. Such a plan would be by its nature small and would be no longer than 4 days BUT critically, would not involve the Accueil element. Pilgrims who can travel with independence within this pilgrimage/group and do not need medical or dietary support are eligible to join. The Pilgrimage would comply with the official UK and French travel restrictions in force at the time of travel. SOLL will not provide medical support of any type whatsoever. Bookings will be taken and deposits refunded if necessary after a Go/No Go decision taken 6 weeks before departure.
Recognising that SOLL has friends from across England we could plan a one day local pilgrimages.
Osmotherley, North Yorkshire. The Lady Chapel Shrine of Our Lady of Mount Grace, Summer 2021
Hayes, West London, Summer 2021
Devon (Location to be decided), Summer 2021
Finally, it may be possible to create a package and programme for a pilgrimage to Lourdes in the same format as proposal 1 for mid October 2021. The same restrictions in regard to medical and dietary needs would apply as well as the following any Covid19 restrictions in place at that time.
All options will require considerable work by our team and will only proceed if there is sufficient indication of solid support.
Please contact the Society by email, phone, or easiest of all by using this link Society of Our Lady of Lourdes 2021 (google.com) by Friday 19th February at the latest please to register your interest in one of more of the above three options stating, for option 2, which local pilgrimage you would support.
Your Stories
Have you any stories that you think may be of interest to other visitors of this site? For example you may have been to Lourdes as a "first time" Pilgrim and would like to share your experience or you may have some words of comfort. If so, please upload your submission HERE
The Society of Our lady of Lourdes makes donation to Lourdes Sanctuaries
We are pleased to announce that the Society has donated £10,000.00 to the Sanctuaries at Lourdes to assist them in these difficult days and has received a letter of thanks accordingly.

A fundraising message from Simon Chandler
Hi to all our members, friends and supporters.
I have just set up an account for the Society of Our Lady of Lourdes with smile.amazon.co.uk. Amazon smile is the charitable side of Amazon. Everything on smile is exactly the same as the main amazon website. You log into smile with your normal amazon login details.
When you first visit smile.amazon.co.uk you will be prompted to select your charity, you only have to do this once. Then just shop as normal.
Or you can use this link https://smile.amazon.co.uk/ch/1086419-0 This should take you straight to our landing page.
Amazon smile will donate 0.5% of the net purchase price(excluding VAT and shipping fees) of eligible amazon smile purchases to the charity selected by the customer.
Not everything is an eligible purchase. It will tell you next to the product description if your item is eligible.
Our Amazon donations are paid electronically every quarter.
I would be extremely grateful if everybody could have a go at this as Christmas is coming and this is FREE MONEY from Amazon and nothing in the shopping process changes for you or me, we just need to use: smile.amazon.co.uk and select our charity.
Thank you,
Simon Chandler
Fund raising committee.
SOLL's Virtual Pilgrimage is now complete.
It will remain on-line at www.soll-lourdes.co.uk/soll-virtual-pilgrimage-2020
There are reflections from the priests who intended to join us this year for each of the days from Sunday through to Friday commencing with Archbishop Kevin.
It also includes celebratory pieces and photos for this and previous years.
This has been a team effort: Thank you, to Chris Howell for his inspired idea and encouragement and to Maree Anderson who turned the concept into a framework – and also fleshed it out with detail. Thanks to Archbishop Kevin for commending and introducing our virtual week. To Fr Dennis, Fr Terkura, Fr John, Fr Dominic and Fr Richard for preparing and delivering their reflections using unfamiliar technology. To Vicky Irwin & Nick Edwards for pulling together, despite lockdown, videos of praise and song by the students, & to Ollie for sharing his personal testimony. To Ray Harrison for mailing, both electronically and by post, copies of the programme and novena. To those who delivered the content: Sacha Blanchard, Danny Murphy, John Perkins - for controlling the Zoom session, Brian McCarthy for his very proactive, multiple posts on Facebook, promoting the week, and John Michell for putting it all together so beautifully with such great thought, on the website.
A candle for our pilgrimage burns at the Grotto.
I hope there will never be another virtual pilgrimage: for the Society will be going to Lourdes.
Always.
If you join us, it will.
Nick Edwards wrote: A pilgrimage is a journey to a sacred space, an act of religious devotion. Our annual pilgrimage to Lourdes in May is a long and complicated one. However you get there, either by train, plane or coach, the journey is always tiring and despite the best laid plans never easy.
Like me I am sure you were bitterly disappointed that the journey to Lourdes could not take place. Some were due to journey on pilgrimage for the very first time. They do not necessarily know what it is they have missed out on. Those who have been before - be they assisted pilgrims, members of the Society, praying pilgrims, the Massabielle group, or staff and some older students from our two schools - have a much better idea of what the Lourdes experience means and what they likely missed out on.
I often tell the students that every pilgrimage is different. However I didn't think for one minute that the difference could look like this. A virtual reality pilgrimage. I am sure you have been reliving memories this week of pilgrimages past whilst following events online, and missing the daily routine that quickly becomes established in Lourdes. The bonds that are made, the precious time at the Grotto, the spectacle of the torchlight procession, the beauty of St Sauvin and Cite St Pierre, seeing the young and old/sick bond so naturally, an ice cream in a cafe - the list could go on.
Thank you to everyone who contributed to the Virtual Pilgrimage of 2020. The journey to my laptop was far easier, though admittedly less fun. It was a tremendous effort on the part of many people in the Society to help keep Lourdes in our lives at this challenging time. But I know behind the scenes a huge amount of time was required to make the short journey to my laptop a meaningful experience. Thanks to the clergy who contributed wise words and the students who provided some entertainment.
See you all next year where I hope we ALL go in great number - blue, yellow, green. Lourdes and "social distancing" or "isolation" are simply not possible words that sit easy with anyone anywhere. Lourdes is no exception. Let us ask Mary to "shield" us all during this time to allow for a safe journey back to this very special place when restrictions permit. And the ice cream is not quite the same here.
A journey that still was.
Donate to the Society on "Just Giving"

Simply CLICK HERE to make your payment.
News
Important Update
Dear Pilgrim, Helper, Priest, Teacher, Student, Doctor, Carer, Nurse,
Due to the unprecedented effects in our daily lives of the Coronavirus, an emergency meeting was held at SOLL, Hayes, to discuss our Lourdes 2020 pilgrimage in May.
The discussions related to ensuring the health and wellbeing of all involved in the pilgrimage.
It is with regret that we have to announce our reluctant decision to CANCEL the pilgrimage this year.
Much work now needs to be done to unwind all the preparations.
We will be in touch regarding future events on our schedule and will continue to communicate Lourdes news to you.
Please pray for each and everyone and dedicate your prayers to Our Lady to continue the spirit of Lourdes.
We will gather again, to go together, on pilgrimage to Lourdes from 28th of May to 4th of June 2021
Our Lady of Lourdes, Pray for us,
Saint Bernadette, Pray for us.
The SOLL Pilgrimage Committee and SOLL Council
Dr F Lucille Mitchell, RIP
It is with personal sadness that we have to advise of the passing of Lucille Mitchell. Lu served the Society as both a pilgrimage doctor as well as handmaid and in latter years came as an assisted pilgrim. We thank her for her devotion to Our Lady and her service to the Society and our thoughts are with her children and grandchildren who continue her legacy in serving with the Society.
May perpetual light shine upon her and may she Rest in Peace, Amen.
Hazel Hayward, RIP
It is with great sadness that we have to advise of the passing of Hazel Hayward. Hazel was a lifelong member of the Society and served for many years as a Nurse with the pilgrimage, coming as an assisted pilgrim in later years. We are all so very grateful for her many years of service to Our Lady and she will be greatly missed. Our thoughts are with her niece, Sacha at this time.
May she rest in peace and rise in Glory.
Fundraising Variety Show:
Dedicated Carer Sonali de Silva's Variety Show last Saturday was a great success and much enjoyed by all who attended. Besides giving pleasure to all those present,
over
£1,000
was raised for the Society's Sick Pilgrim Fund. We thank Sonali very much for all the hard work she put into its staging and to all who contributed to its success.
Christmas/New Year Appeal:
Likewise with the Society's Christmas appeal which resulted in donations totalling an amazing
£4,378
, by far the best result ever for this particular fundraiser - our thanks to all who sent us their cash or cheque contribution.
On a very sad note, we give news of the death recently of John Villiers -just 11 months after that of his dear wife Miranda. John's funeral was in St Nicholas's Church, Blakeney at 2pm on March 9th. May they rest in peace.
THE ACCUEIL NOTRE DAME - IN THE HEART OF THE LOURDES SANCTUARY

The Accueil Notre-Dame allows sick and handicapped pilgrims to live their pilgrimage to Lourdes in the best conditions facing the Grotto.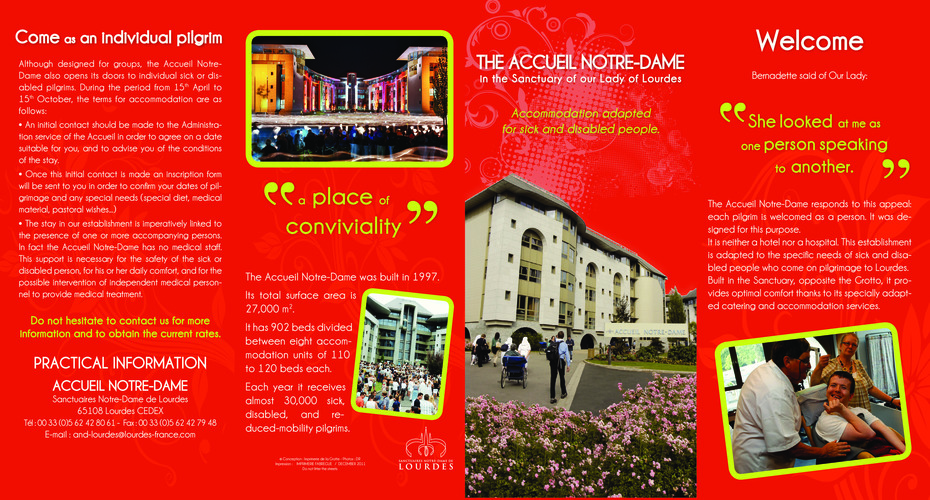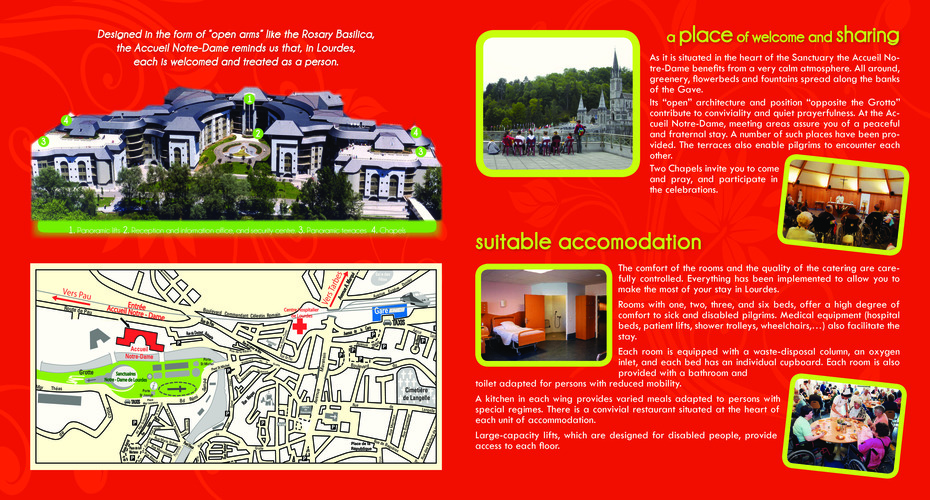 "

Want to get young people involved in the Church? Take them on a pilgrimage

"
National LOTTO Bonus Ball fundraising game - weekly prizes:
Two numbers are currently available; 21 and 52. - contact the office for details, 020 8848 9833, enquiries@soll-lourdes.com
The SOLL Centenary Club raises money for our Sick Pilgrims - your support would be greatly appreciated:
If you are not yet a member of the Centenary Club and want to be then please contact the Society office and we will send you forms so that you can be in next month's draw.
It's just £5 per month and the more people that join the bigger the prizes will become!
Please note that half the money raised each month goes towards Society funds.
Thank you for your support ...more details
-------------------------------------------------------------------------------------------------------------
Your Prayers (last updated 6th January 2021)
Please remember in your prayers those who are sick especially Geraldine Taylor, Alan & Mary Daws, Patrick Cobbe, Mary Lay, Lourda O'Leary, Annette Hamill, Mary McCarthy, Fieke van den Berg, Hazel Gray, Trevor Lee-Yow(Oct.2018), Bill Tomlinson(Nov.2018), Jade Prisk(July 2019), Theresa Mangan(Jan.2020), Julie Munnelly(30.05.2020), Mary Hopley(28/08/20), Walter McNeela(25/08/20), Bill Metcalf(29/10/20), Ann Gallagher(Nov), Tom Connell(30/11/20), Win Corrigan(26/12/20), Philomena Rodgers & Family(06/01.21), Breda Walsh(15.01.21), Kay Gravells(18.01.21), Nora McCaffrey(18.01.21) and Malcolm Bowen(Jan. 2021).
We ask Our Lady to join her prayers to ours for their intentions and for the repose of the souls of all Society Friends who have died in the past few months. Especially we pray for: John Villiers(12/02/20), Bro.Jonathan Gell(Feb.2020), David Maunsell(Feb.2020), Patricia Sutcliffe(13/03/20), Kitty Riley(20/03/20), Hazel Hayward(02/04/20), Terry Armour(08/04/20), Bridie Murphy(01.06.20), Mai O'Connell(02/06/20), Dr Lucille Mitchell(18/06/20), Susan Brennan(26/06/20), Fr William Wells(01/07/20), Lynn Lee Yow(27/07/2020), Ewa Gajewska(30/07/20), Maria Golaszewska(06/08/20), Thérèse de Casagrande(20/08/20), Theresa Hussey(13/08/20), John Kevin Dolan(13/08/20), Norman Hawkins(October), Tom McCarthaigh(06/10/20), Rita McCormack(8/10/20), Raymond Rodgers(8/10/20); Yvonne Fox(31/10/20), Norman Barnard(24/12/20), Norman Wearing, Veronica Mascarenhas(11.02.21).
May their souls and the souls of all the faithful departed rest in peace and may our Blessed Lady, Consoler of the Afflicted, pray for those who mourn.
Monthly Masses are offered for those on the list, and weekly Masses for ALL deceased Society Members including many who die without the office being notified.
Society Life Friend, Wigberto de Souza, has sent us the following requests from Pope Francis:
Weep not for what you have lost, fight for what you have.
Weep not for what is dead, fight for what was born in you.
Weep not for the one who abandoned you, fight for who is with you.
Weep not for those who hate you, fight for those who want you.
Weep not for your past, fight for your present struggle.
Weep not for your suffering, fight for your happiness.
With things that are happening to us,
we begin to learn that nothing is impossible to solve,
just move forward.
THE HOLY FATHER MAKES A REQUEST FOR PRAYERS THAT GOD PROTECTS HIM AND GIVES HIM FORCES TO MEET THIS DIFFICULT TASK . . . . SO BE IT! SO BE IT, LORD JESUS!!!
Our Lady of Lourdes pray for us
St Bernadette pray for us

Volunteer Skills and Information Update Questionnaire - ...more details
(Please download, complete and return to the Society Office)

Download New Helpers' Presentation by Bob Tomlin (RIP) - HERE

Download a copy of the Stations of the Cross - HERE